Diving in Sharm El Sheikh
Diving in Sharm El Sheikh is a scuba diver's dream come true. Coral reefs and warm crystal clear waters invite you to take a plunge and see what's beneath the surface! If you want to see a selection of the top historical tourist attractions in Egypt, there is no better way to do it than by way of a cruise down the Nile. However, if you want to see and explore a breathtaking underwater paradise, then it is time for you to visit the Red Sea, and Sharm is a perfect candidate.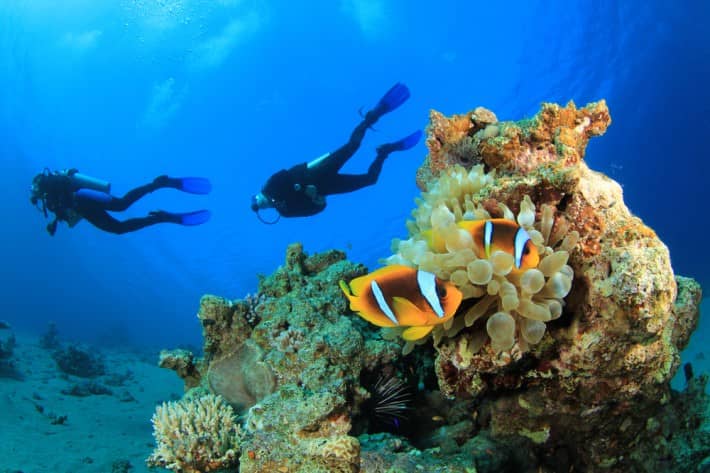 Design Your Custom Egypt Tour
Explore Egypt your way by selecting only the attractions you want to visit
Diving in Sharm El Sheikh
Known throughout the world as a full service diver's destination, the waters surrounding Sharm El Sheikh along the Sinai Peninsula in Egypt continue to be visited by more and more divers on an annual basis. The entire area is now known as the Red Sea Riviera for its many high quality resorts and remarkable natural beauty.
Learn more: Egypt Vacations
Marine Life Extravaganza
The warm waters of the Red Sea are home to a diverse number of sea creatures. From Ras Mohammed, known as the one of the top sites in the world due to the meeting of the Gulfs of Suez and Aqaba and the unique ecosystem that has created, to the Jackson Reef at the northern limit of the peninsula – with its sharks, turtles and groups of banner, puffer and trigger fish, divers of all skill levels are sure to be satisfied.
Currently most visitors planning on participating in diving in Sharm El Sheikh or water related events look to several different neighborhoods in the city for their diving charters and their accommodations. The most popular include Na'ama Bay, which offers the largest assortment of dive centers in the area and Shark's Bay which is a bit of an upscale area and is home to the original diving outfits and schools.
Most divers spend their time in the Ras Mohammed National Park, which means any collecting or disturbing of the wildlife is strictly prohibited, which also insures that the many more diving tourists who will come to enjoy the waters will be able to see the remarkable wildlife in its completely normal and natural state.
Explore: Sinai Attractions
Sharm El Sheikh Dive Sites
Sharm el Sheikh is among the best destinations for diving holidays that Egypt has to offer and if you plan a trip to the resort in the Sinai peninsula, you should make sure that you visit the following dive sites.
Jackson Reef
If you are hoping to spot something big on your diving holiday, Egypt could be the place to go – and Jackson Reef gives you a good chance as it is renowned for the strong currents that pass by the reef.
You may be lucky enough to catch a glimpse of hammerhead sharks, large schools of barracudas or even a tiger shark during a dive here.
Keep your eyes on the blue during your dive – but don't neglect the reef which is teeming with life due to the strong currents that provide nutrients for a vast array of corals, fish and other marine creatures.
The Thistlegorm
The wreck of the Thistlegorm is one of the biggest draws for diving holidays Egypt has – and with good reason.
This Merchant Navy vessel was sunk in 1941 during the Second World War and divers will discover much of its cargo of motorcycles, trucks and wellington boots is still in its hold.
Jacques Cousteau found the wreck in the 1950s and since then it has regularly been named among the top ten wreck dives in the world.
As well as its cargo, the anti-aircraft gun and its massive propeller are worth seeing during your dive on the wreck.
The top of this wreck begins at around 12m, with a maximum depth of around 30m, which makes it easily accessible to most recreational divers with some experience.
Shark Reef to the Yolanda
Another wreck of sorts within easy reach of Sharm el Shekih is the Yolanda. This cargo ship sank to the bottom of the reef wall, shedding one of its cargo containers on to a plateau as it went.
Divers regularly do a drift dive along Shark Reef to this point, where toilets and a bath that were being carried by the Yolanda can be seen dotting the seabed.
Your Budget, your Tour, your Schedule
At Egypt Tours Plus, all of our Egypt tour packages can be customized and tailored to fit your exact needs. Simply tell us what changes you would like us to make to your preferred itinerary, and consider it done. Awarded the Tripadvisor "Travelers' Choice" Award 2020 and 2021, you can be sure that we don't only sell tours – we make dreams come true.
Sharm El Sheikh Tours
Design Your Custom Egypt Tour
Explore Egypt your way by selecting only the attractions you want to visit
Amazing Ancient Egypt Tours
Explore the best of Sharm El Sheikh and Egypt. Find and book your dream Egypt tour package today.