Al Mizawaka Tombs – Stepping Into Ancient Burial Chambers
Al Mizawaka Tombs are often said to be the highlight of a visit to the Farafra Oasis. However, while Farafra may be one of the smaller of the oases in the White Desert, it still offers numerous historic things to see in the area.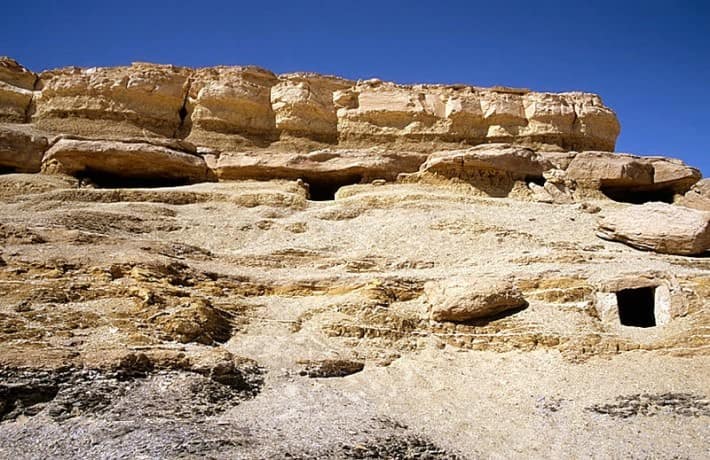 Situated along the caravan road between the Dakhla Oasis and the Bahariya Oasis, this small oasis is home to such sites as the Al Mizawaka Tombs. This is a Roman burial ground that dates back to ancient times and includes a unique mix of Greek, Roman, and classic Egyptian art and paintings.
Pharaonic Period Tombs
The Al Mizawaka Tombs date to the Pharaonic Period, and while they are distinctly Roman, they also include influences from other cultures, making the tombs quite unique. Many of the tombs include classic Egyptian paintings and décor. However, interspersed throughout the Egyptian art would be both Greek and Roman influences.
When you visit the Al Mizawaka Tombs, there are two important tombs that you will want to note: the tomb of Pelusis and the tomb of Petosiris.
In the tomb of Petosiris, you will see the best example of the blended styles. The sarcophagus itself is decorated in Greek style. The paintings on the walls are distinctly Egyptian. Finally, a painting of a bull adorns the ceiling. This bull is distinct as it is directly related to a Persian cult of Mithras.
The Al Mizawaka Tombs are hewn out of rock and sandstone, and scattered along a sloping hillside. Many of the tombs were preserved quite well and you will be able to view perfectly preserved paintings throughout.
If you go to the burial ground with a tour guide, you will be able to learn how to distinguish between the Egyptian, Greek, Roman, and Persian art and architecture used throughout the tombs.
Getting to the Al Mizawaka Tombs
You can reach the Al Mizawaka Tombs by taking a standard bus that visits the area on a regular basis.
Additionally, you could choose to take a desert tour that will stop at numerous sites in the Farafra Oasis. This way, you will get to see the burial ground as well as numerous other sites such as the Badr Museum, Qasr al Farafra, the Coptic Church, and the ruins of a Roman Fortress.
Because the oasis is fairly small, you can visit most of these sites in a journey that takes only a day or two. Just make sure you take the time to visit the Al Mizawaka Tombs along the way. Alternatively, you can book an all-inclusive Egypt tour package that includes a visit to most of the Sahara's top attractions.
Design Your Custom Egypt Tour
Explore Egypt your way by selecting only the attractions you want to visit