Egypt escorted tours offer visitors so much more than just a fascinating vacation, and with so much variety on offer, you can find the perfect Egypt tour packages regardless of your budget or circumstances. Come and explore this ancient land with us in a way you never thought possible.
Top 6 Most Popular Escorted Egypt Tours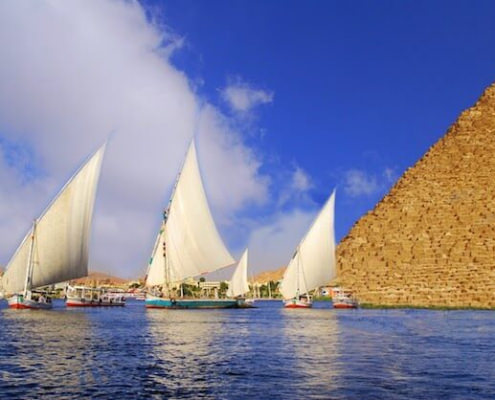 https://www.egypttoursplus.com/wp-content/uploads/2017/04/Cairo-Nile-Cruise-and-Red-Sea-Stay-2.jpg
418
710
Amar Mahallati
https://www.egypttoursplus.com/wp-content/uploads/2019/06/egypt-tours-plus.png
Amar Mahallati
2017-04-05 18:27:00
2020-11-27 10:34:17
12 Day Cairo, Nile Cruise And Red Sea Stay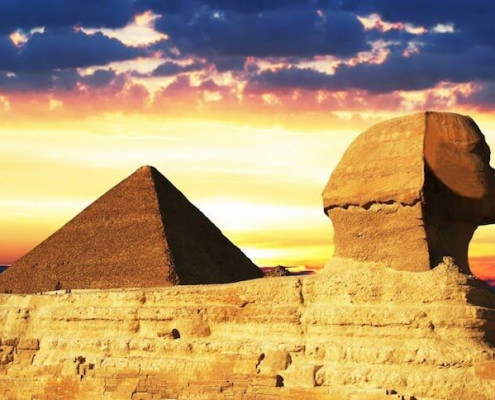 https://www.egypttoursplus.com/wp-content/uploads/2015/04/Luxury-Nile-Cruise-and-Cairo-Tour.jpg
484
710
Amar Mahallati
https://www.egypttoursplus.com/wp-content/uploads/2019/06/egypt-tours-plus.png
Amar Mahallati
2015-04-13 19:07:03
2021-01-18 11:16:22
10 Day Luxury Nile Cruise and Cairo Tours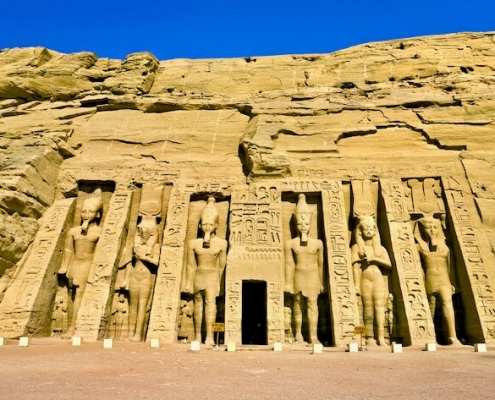 https://www.egypttoursplus.com/wp-content/uploads/2019/03/Cairo-Abu-Simbel-and-Nile-Cruises.jpeg
473
710
Amar Mahallati
https://www.egypttoursplus.com/wp-content/uploads/2019/06/egypt-tours-plus.png
Amar Mahallati
2015-04-04 18:41:34
2020-11-27 10:34:43
8 Day Cairo to Abu Simbel Tour w/ Nile Cruise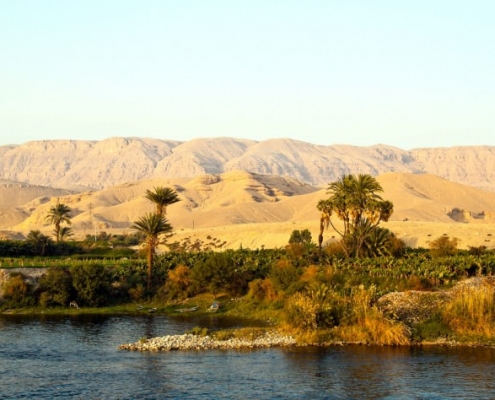 https://www.egypttoursplus.com/wp-content/uploads/2014/04/8-Day-Egypt-Holiday-Tour-Cairo-and-Nile-River-Cruise-e1398255190801.jpg
474
710
Amar Mahallati
https://www.egypttoursplus.com/wp-content/uploads/2019/06/egypt-tours-plus.png
Amar Mahallati
2014-04-12 18:30:32
2020-11-27 10:34:57
8 Day Egypt Holiday Tour – Cairo and Nile Cruise [By Train]
https://www.egypttoursplus.com/wp-content/uploads/2014/04/Budget-Trip-to-Egypt-Cairo-and-Nile-Cruise-2.jpg
399
710
Amar Mahallati
https://www.egypttoursplus.com/wp-content/uploads/2019/06/egypt-tours-plus.png
Amar Mahallati
2014-04-06 00:48:32
2021-03-30 10:12:09
8 Day Best of Egypt Tour – Cairo and Nile Cruise [By Air]
Egypt Escorted Tours – Every Mile A Memory
Egypt Escorted tours allow travelers to experience Egypt the way it should be experienced. For thousands of years Egypt has been a place of fascination and interest, and travelers have been heading to this mysterious land of deserts, pyramids, temples and tombs for hundreds of years already.
Today, Egypt is as popular a destination as ever, and tourists are fortunate to have an almost endless array of escorted tours to Egypt to choose from. There are basic tours of popular sites, such as an escorted Egypt pyramids tour, or a Cairo tour, and there are lengthy and comprehensive Egypt guided tours of the ancient archaeological sites located all along the length of the Nile River Valley.
What Are Your Travel Requirements?
It is important for a traveler to consider just how much assistance, information and service they want while touring around Egypt. If someone is generally independent, comfortable with the language, and familiar with the region, they may not require an escorted tour of Egypt. However, most visitors to the country will benefit from the knowledgeable services of an escorted tour provider.
Some Egypt escorted tours are pre-arranged small group tours to Egypt, and are managed from the point of departure in your home country, all the way through to the time you arrive back in your home country. Other Egypt tour packages include only periodic tours during the course of your vacation.
Generally, escorted Egypt tours will include transport from the airport to your hotel or cruise ship, and also to the specific sites and attractions listed in your tour itinerary. Some tour operators also provide licensed and university trained Egyptologist guides, who deliver comprehensive tours of the many sites. NOTE: – Egypt has strict policies in place with regards to who may or may not lecture at historic sites, and this in itself is a good reason to select an escorted tour service.
Some escorted tours in Egypt are "day trips", which usually take up an entire day, and generally focus on only one specific area. For example, if you book an escorted day tour of Luxor, your Egyptologist guide will escort you to the top attractions in and around the area, which typically include the Temple of Karnak and the indescribable Valley of the Kings.
Depending on the type of tour you book, it might also include access to certain restricted areas that are generally not accessible to group tours. Some escorted tours will also include meals and drinks, upgraded coaches and Nile River cruises, printed handbooks and guides, and other associated services.
Themed Escorted Tours To Egypt
In addition to the regular Egypt escorted tours that focus entirely on the archaeological sites of the country, there are also many other types of "themed tours" available, including Egypt honeymoon packages, Nile cruise holidays, Egypt diving holidays, and etc. Most travelers travel to Egypt to see many famous religious locations, buildings and historic routes. Others come for the scenery and wildlife, including diving tours in the Red Sea, or escorted tours in the Sinai Peninsula.
Choosing Egypt escorted tours is an excellent way for visitors to see the most famous and most beautiful Egyptian tourist attractions. They allow visitors to devote their full attention to the sights and sounds of the country, while traveling in a safe, comfortable and completely relaxed manner.
Discover The Magic Of Escorted Tours
Not everyone is a specialist on the historical sites in Egypt, but with our expert assistance you can be sure to see the best of Egypt's museums, monuments, temples, tombs and more. You can request information about Egypt escorted tours  today by filling out the appropriate questionnaire or by using the Live Chat feature found on the left hand side of your screen.
At Egypt Tours Plus, all Egypt tour packages are 100% private and fully customizable. You can have your Egypt escorted tours your way when you travel to Egypt with us.
Frequently Asked Questions (FAQ)
Is Egypt safe to travel to?
Yes. Egypt is safe to travel to and Egyptian people are very friendly. Most travelers have great experiences in the country, including solo traveler women. Egypt is a very safe travel destination. A proof of that is that in 2019 it was ranked safer than the US and the UK by a global pool. This means that travelers and tourists feel secure in the country and nothing better than themselves to confirm this.
Is Egypt safe for Americans?
Yes. Egypt is safe for Americans and any tourist that wishes to visit the country. Unfortunately, accidents can happen everywhere, but the Egyptian authorities take safety very seriously for everyone, regardless of nationality. Americans are more than welcome and will feel both comfortable and safe in Egypt.
Is Egypt a good place to go on vacation?
Yes. if you would like to experience something different and exotic, then Egypt is an amazing choice. Plus, despite the imaginary of majority, the country also offers beautiful beaches, so an escorted Egypt tour package is a combo of history, discovery, relaxation and curiosity.
What is the best time to visit Egypt?
You can visit Egypt all year long, however, the autumn/ winter season, between September to April, is better, simply because the better temperatures are ideal for enjoying your escorted tour in Egypt, especially if you will visit the desert and the temples in Luxor and Aswan.
How many days do you need in Egypt?
It depends on what you want to see because there is a lot. You can enjoy a short 8 days Egypt package for visiting Cairo and cruise down the Nile or you can have a complete tour of 2 weeks. If none of the packages suit you perfectly, you can still personalize yours.
What can you see in Egypt in 4 days?
Four days in Egypt are not a lot. A 4 day Egypt escorted tour will will most often include a visit the main attractions in Cairo, such as the Pyramids of Giza, the Egyptian Museum, the Coptic and Islamic parts of the city and Khan El Khalili Bazaar. You can include a short trip to Alexandria or Luxor.
What can you see in Egypt in 7 days?
In 7 full days in Egypt you can enjoy Cairo's main attractions, such as the Great Pyramids, Egyptian Museum, Khan el Khalili, and Coptic Cairo, and enjoy a short cruise on the Nile between Luxor and Aswan to visit ancient temples, monuments and the Valley of the Kings.
What can you see in Egypt in 10 days?
A 10 day escorted Egypt tour allow you different combinations. Among the options, you can visit Cairo and Alexandria, do a cruise on the Nile between Luxor and Aswan for visiting ancient temples, go to Abu Simbel, dive in the Red Sea in Hurghada. It depends on what you are prioritizing.
Can you visit the pyramids?
Yes. The archeological site is composed by the Great Pyramids, the Sphinx, the Valley Temple and the Solar Boat Museum. Be aware of the prices though, as you will need extra tickets if wishing to visit inside the pyramids and the Solar Boat.
Can you go inside the pyramids of Egypt?
Yes, you can enter the Great Pyramids, but you have to pay an extra ticket (360 LE for the Great Pyramid; 100 LE the 2nd and 3rd). Other pyramids, such as the Dahshur Pyramid also offer visit of its interior.
What do you wear to visit the pyramids in Egypt?
Comfortable clothes. Although in pictures the pyramids seen close to each other, there is actually some distance between them, and the archeological site is big. If you want to visit inside the pyramids, there is a narrow climbing space, so you should wear trousers or shorts that allow you so.
What do tourists wear in Egypt?
Tourists wear normal clothes, but since modesty is part of Egyptian society, it is recommended to do the same. So shorts and skirts covering the knee, a veil for women when visiting mosques and a pair of long trousers for men, shirts, bathing suit.
What should I pack for a Nile cruise?
Have in mind that during a Nile cruise you will stop to visit temples and do some walking, so have comfortable shoes and clothes with you. Pack shirts, scarves, dresses, skirts and shorts, a pair of trousers, sun block, sunglasses and a hat.
How much does it cost to take a trip to Egypt?
It will depend on your budget and interests. But Egypt is a very cheap destination compared to others, especially if you are converting from US$, Euro or GBP. You can have an Egypt All Inclusive Tour for fair prices and yet luxurious.
What is the cheapest time to go to Egypt?
You can find cheaper prices between May and September, but be aware because it is the spring/summer time, so some Egypt escorted tours may not be advised during strong heat. The peak is in July/ August, but all these months are hot.
How much money should you bring to Egypt?
This really depends on how much you intend to spend. If you are going all inclusive or in a nice escorted Egypt tour, this reduces your costs with food and other necessary things. A medium meal in Cairo, for example is around US$3,80.
https://www.egypttoursplus.com/wp-content/uploads/2014/06/Escorted-Egypt-Tours-Statues-and-Obelisk-at-the-Temple-Complex-of-Karnak-Egypt.jpg
560
710
Amar Mahallati
https://www.egypttoursplus.com/wp-content/uploads/2019/06/egypt-tours-plus.png
Amar Mahallati
2014-06-26 08:12:17
2021-03-24 10:50:51
Egypt Escorted Tours – The Only Way To See The Real Egypt