Sharm El Sheikh Egypt travel guide, is one of the necessary items that you will need when you are travelling to this incredible part of the world. Sharm El Sheikh is a fascinating city located in the southern tip of Egypt. This bustling city once relied upon the port for their main industry, however, today tourism is thriving, and more people are travelling to the area. With the dramatic landscapes, stunning beaches and fascinating culture, it is no surprise that Sharm El Sheikh is incredibly popular.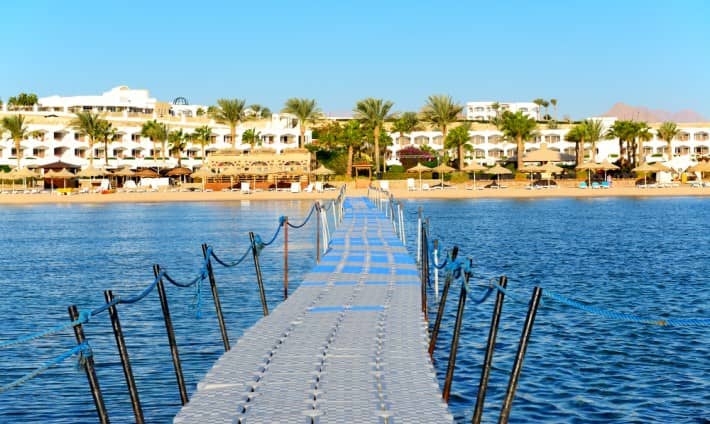 Discover Sharm El Sheikh, South Sinai
There are many reasons why people are choosing to explore this part of Egypt, however, if you have selected it for your next Egypt vacation you will want to research well. Following the right Sharm El Sheikh Egypt travel guide will make sure that you discover all the best places to see. There is so much on offer in this magnificent country that you will want to ensure that you do not miss any of the landmarks, historical buildings, and beautiful scenery.
The climate that is offered all year round and ease of travel make sure that Sharm El Sheikh remains as popular as ever for tourists. There are many airlines that operate to this part of the world, and you will find that you can fly from all major airports. The city is incredibly diverse and is separated into six main areas. The old part of the city is extremely quaint, and somewhere that you will need to spend time exploring.
Sharm El Sheikh Tours
The Naama Bay tourist resort area in Sharm
Naama Bay has become the heart of the city, and when looking through your Sharm El Sheikh Egypt travel guide, you will discover this is where the majority of the international hotels are situated.  During the day, this area of the city is extremely tranquil, however, at night the pedestrian area comes to life. There are many nightclubs, restaurants, bars and shops to explore in this vibrant part of the city. Some of the leading hotels are situated further down the promenade, and there are more developments planned.
Red Sea diving, Sharm El Sheikh
Snorkeling and diving in Sharm el Sheikh is very well-known for the quality of standards, and incredible underwater wildlife.  The deep blue sea offers perfect diving conditions for you to enjoy the magnificent creatures that live in the waters. The reefs of both Tiran Island and Ras Mohammed National Park are accessible to divers and will offer you magnificent diving.
These reefs are considered some of the best in the world, and can be reached easily by boat. Throughout the Sharm El Sheikh Egypt travel guide, you will notice that diving is an immense activity in the area. Whilst in the water you can swim through breathtaking shoals of barracuda and onboard the boats you will see sharks gracefully gliding through the crystal clear water.
The SS Thistlegorm Wreck Dive
The wreck of the SS Thistlegorm is thought to be the best wreck dive in the world, and many divers travel to this area of the world for this sight alone. If you are unsure of which dive trip to book, consulting the Sharm El Sheikh Egypt travel guide is an idea before you travel. You may want to avoid the crowds, and book one of the diving safaris on offer. These are one of the best ways to experience the beautiful underwater world in Sharm El Sheikh.
Sharm has something for all
Out of the water there is plenty to see and do, which will keep you busy for your vacation. Whether you want to explore the natural scenery on horseback, or go shopping in the first class shopping malls, there is something for everyone to enjoy. The Sharm El Sheikh Egypt travel guide will be able to aid you and allow you to choose your activities. Knowing what you are doing whilst on vacation will allow you to save time, effort and money when you arrive.
Travel safety in Sharm El Sheikh
Safety is always an issue no matter where you travel in the world, and you have to remember to be aware. Within the Sharm El Sheikh Egypt travel guide, you will see that the city has increased the police presence around all of the principal tourist areas. You can explore on your own both during the day and at night, however, you need to ensure that your valuables are kept out of sight. Crime is very minimal in the area, however, it does happen, and you do not want your vacation ruined.
Weather in Sharm El Sheikh
The climate in Sharm El Sheikh is fantastic and one of the main reasons why people travel to Egypt. The hottest months are between June and September, and you need to be aware that the temperatures do soar. The temperatures do reach over 35c, and will not drop below 30c at night in the summer months. The coolest time to travel is during January, however, the temperature still remain exceptionally good, and you will find that it does not fall below 26c.
Eating out
Eating out is always a massive headache when you travel abroad, and one of the most important things that you will want to look at in the Sharm El Sheikh Egypt travel guide. There are many restaurants in Sharm El Sheikh, and although you should try the authentic food, there are plenty of other options.  Popular fast food outlets have arrived in Sharm El Sheikh, and you can now buy KFC, MacDonald's and Pizza Hut with ease.
Explore the Best of Egypt
Travelling throughout the city is incredibly easy and affordable ensuring that you can see as much as possible whilst on vacation in Egypt. Hotels will often provide shuttle buses to and from the main shopping and tourist areas. You can spend many hours exploring what the fascinating city has to offer before returning to your hotel.
No matter why you have chosen Sharm El Sheikh as your holiday destination, you will love spending time in this magnificent country. Finding out as much as you can before you travel will guarantee that you miss nothing.
Amazing Ancient Egypt Tours
Explore the best of Egypt. Find and book your dream trip today.
Country Specific Egypt Tour Information
Looking for more information before you decide? We have a specific international guide covering the most important points you need to be aware of before traveling to Egypt.