Things to do in Sharm El Sheikh
Most people come for the ocean, but the deserts that surround this resort paradise are well worth a visit. Learn about what the things to do in Sharm El Sheikh are by reading through this short post. Because all of our Egypt tour packages are fully cusomizable, any of the activities mentioned in this post can easily be added to your preferred travel itinerary.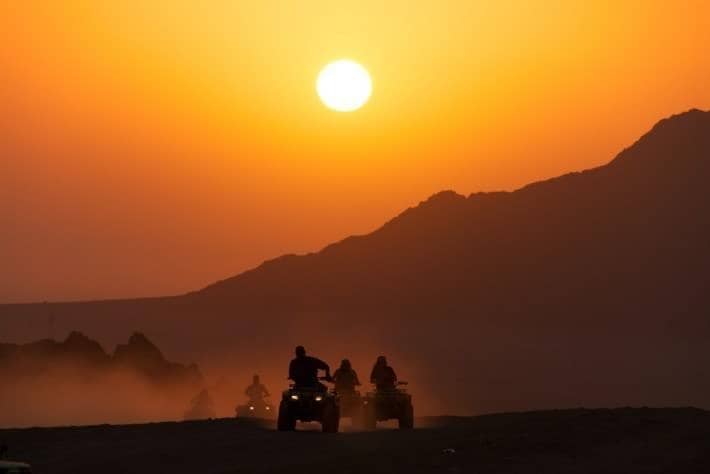 Things To Do In Sharm El Sheikh
Sharm El Sheikh, known also as Sharm, is located in Egypt at the southern tip of the Sinai Peninsula. It is on the coastal strip between the Red Sea and Mount Sinai. It is also known as the City of Peace because a large number of international peace conferences have taken place there.
This tourist friendly city has a lot to offer to visitors, both inside the city and out. Just about everyone will find something to love while visiting Sharm El Sheikh. Due it the city's popularity, many of our Nile cruise packages include a short stay in this charming part of Egypt.
Design Your Custom Egypt Tour
Explore Egypt your way by selecting only the attractions you want to visit
Sharm El Sheikh Day Tours
The Beaches
The city has many wonderful beaches where you can sit and relax in the sun and then take a nice dip into the ocean. Some of the most popular beaches in the area are Ma'ama Bay and Shark Bay.
You can swim in the warm waters, snorkel, and go scuba diving. The underwater world is just as beautiful as the world above, and you will be able to see a variety of marine animals, including colorful fish, sharks, manta rays, and turtles.
Boating
You and take a number of different boat trips around the bays and reefs and see a wide variety of marine life. Boat trips are a wonderful way to relax and soak up the rays. Different types of boats are available.
Markets
Visitors to Sharm El Sheikh that enjoy shopping will find shops, markets, and more that are full of interesting merchandise. You can find jewelry, gold, locally made crafts, textiles, and a lot more.
Desert Excursions
The desert is as wonderful a place to visit as the beach, and excursions there are very popular. Some of the most popular places to visit in the desert are Coloured Canyon, St. Catherine's Monastery, and the Feiran Oasis. You can even climb Mount Moses and take photographs. You can tour the desert in a number of different ways, including horseback riding, camel riding, and quad bikes.
The Ras Mohammed National Park
Ras Mohammed National Park is a great getaway, with beautiful scenery, including beaches. If you are traveling with the family, this is a great place to relax.
Learn more: Sinai Attractions
Design Your Custom Egypt Tour
Explore Egypt your way by selecting only the attractions you want to visit
Amazing Ancient Egypt Tours
Explore the best of Egypt. Find and book your dream trip today.
Country Specific Egypt Tour Information
Looking for more information before you decide? We have a specific international guide covering the most important points you need to be aware of before traveling to Egypt.