9 Days in Egypt – What to See in Egypt in 9 Days
While 9 days in Egypt may not seem like much, it is ample time for you to see so many breathtaking historical attractions. The legendary Giza Pyramids, the vast Karnak Temple complex, Luxor Temple, Philae Temple and the breathtaking Hatshepsut Temple are just a few examples of must see attractions in Egypt.
So, if you're wondering what to see in Egypt in 9 days, continue reading…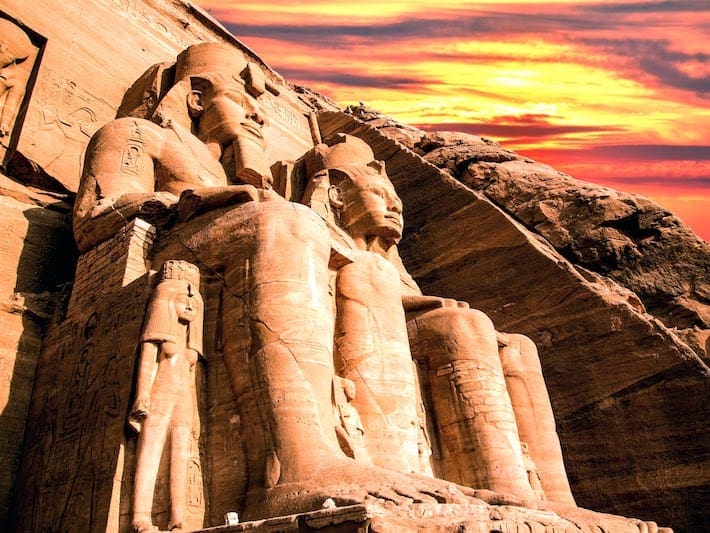 9 Days in Egypt: Begin with the Top Sites in Cairo
If you only have 9 days in Egypt you don't want to spend too much time in the capital but you should plan on spending at least two or three nights in this fascinating city. This will allow you to see some of the very best attractions in the region.
As an Egypt tour operator that has decades of experience, we would recommend that you put the following attractions at the top of your "must see" bucket list:
1. Pyramids of Giza and the Sphinx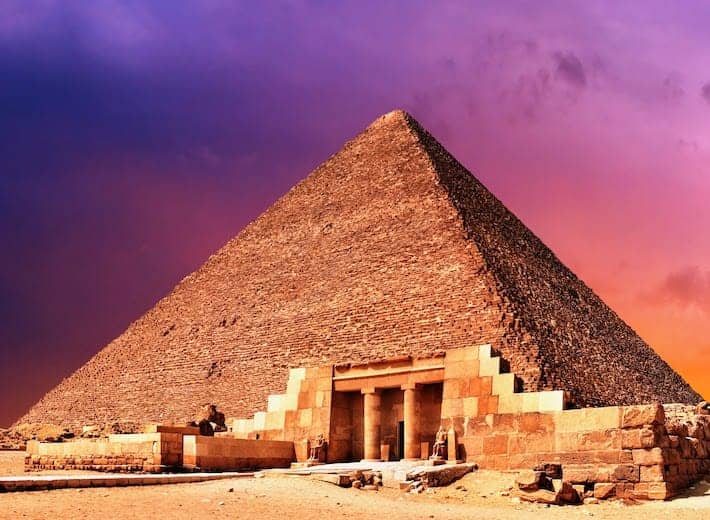 The Pyramids of Giza and the Sphinx are only a stone throw away from downtown Cairo and one of the first attractions you will visit during your 9 days in Egypt. Bear in mind that while all three pyramids are usually open to the public, meaning you can go inside them, entry to these massive stone structures is not included in the general admission ticket for the site.
If you wish to go inside any of the three pyramids you will need to purchase additional tickets at the gate. Entry tickets don't cost much, but be warned, there is not really much to see in any of them other than stairs, passages, and empty chambers.
If you visit the pyramids as part of an organized tour you will typically spend around 2 to 3 hours at the site. However, if you wish to go inside the pyramids you will obviously need to plan on spend more time at the site, roughly 30 minutes for each pyramid you wish to enter. Also, you should plan on spending a further 30 minutes at the site if you want to enjoy a camel ride around the pyramids.
As with nearly all archaeological sites in Egypt, we highly recommend that you visit this site with an expert tour guide. If you book a professional private guided tour package you should be able to visit at least three Cairo attractions in a day, such as the Giza Pyramids, the Egyptian Museum and the famous Khan el Khalili Bazaar.
Suggested: Giza Pyramids Tours
2. The World Famous Egyptian Museum
No visit to Cairo is complete without a visit to the Egyptian Museum which is located across the road from Tahrir Square in downtown Cairo. While many of the original artifacts that were once displayed in this museum have been moved to the new Grand Egyptian Museum at Giza, visiting this timeless museum in the heart of Cairo is nonetheless an unforgettable experience.
You could quite literally spend an entire day exploring this museum, but when you only have 9 days in Egypt, you don't want to devote an entire day to a single site. For most regular tourists, 2 to 3 hours at the museum is ample.
3. The 14th Century Khan el Khalili Bazaar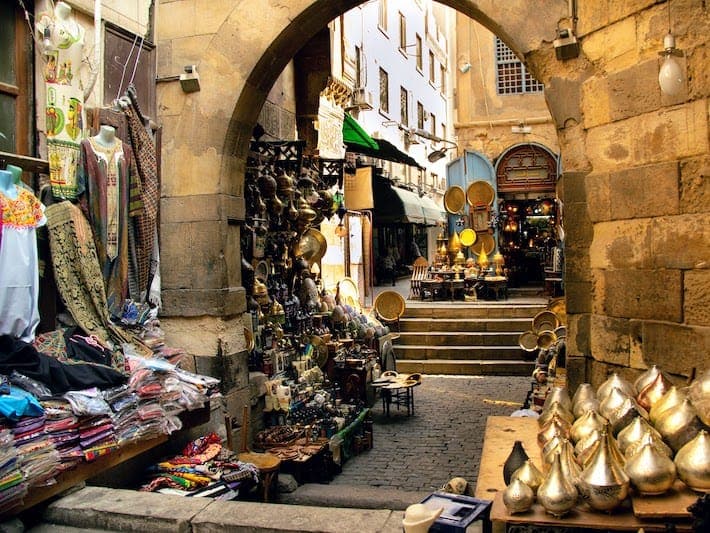 The Khan el Khalili Bazaar is a big hit with tourists and we certainly recommend visiting the bazaar during your 9 days in Egypt . Not only is it a great place for doing some shopping before you leave Cairo, but it is also a great place to enjoy some people watching. Once again, you should really consider visiting this place with an expert tour guide to help bridge the language barrier and also to help ensure that you don't get overcharged for souvenirs you may want to buy.
4. The Great Step Pyramid at Saqqara
The great Step Pyramid is located at the ancient Saqqara Necropolis, approximately a 40 minute drive from Cairo. This was the very first pyramid ever built by the ancient Egyptians. The pyramid was closed to the public for approximately 14 years during which time extensive renovations took place. Today, it is once again open and tourists are welcome to go inside with no additional ticket being required. The inside of the Step Pyramid is by far way more interesting than the inside of any of the pyramids at Giza.
There is no public transport linking Cairo to Saqqara so you will either need to use taxis or book an organized tour package such as our Giza, Memphis and Saqqara Day Tour or our Giza, Saqqara and Dahshur Pyramids Day Tour.
5. Memphis, the Ancient Capital of the Old Kingdom
When you have 9 days in Egypt you should also have time to visit Memphis. Memphis was the ancient capital of the Old Kingdom and it is located only a short drive from Saqqara. For this reason, both sites often feature alongside each other in many Egypt tour packages. Today, only some scattered ruins remain but it is still a great place to visit if your schedule allows for it.
1, 2, or 3 Days in Cairo, Egypt?
If you only have one night in Cairo, you won't be able to visit all the sites that have already been mentioned in this post. If, on the other hand, you have two nights in Cairo, then it would be doable but you would have to expect a very tight and busy schedule, and you will almost certainly need to use a professional tour company that provides an expert guide and your own private driver and vehicle.
Ideally, you should have three nights in Cairo in order to visit all of the places mentioned in this post. However, if you only have 9 days in Egypt, this is something you may not wish to do, and especially if you are traveling independently and having to rely on taxis and public transport.
Once again, if you only have 9 days in Egypt and you want to get the most out of your time in the country, you should seriously consider booking a professionally designed Egypt tour package or, even better, design your dream trip from scratch.
An Unforgettable 9 Days in Egypt Should include a Nile River Cruise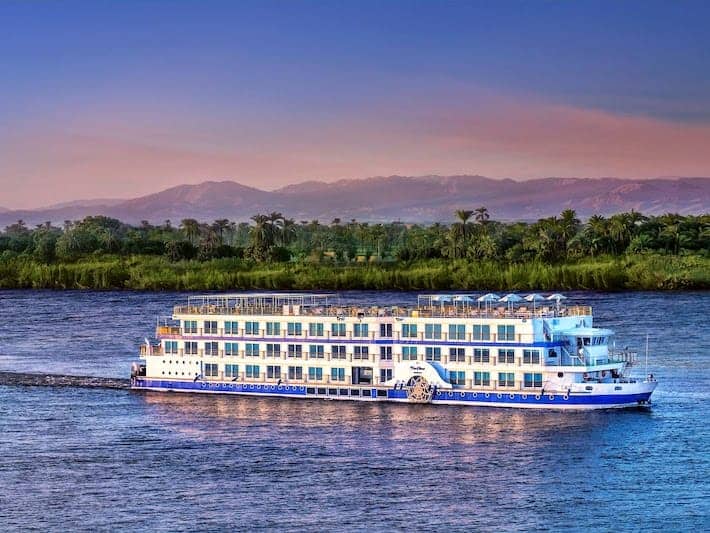 If you are not sure what to see in Egypt in 9 days, a Nile River Cruise from Aswan to Luxor or from Luxor to Aswan is hands down the best way for anyone to experience ancient Egyptian history, and to do so in true comfort and style. To experience a true sense of magic, be sure to book a five-star luxury Nile cruise. If you do, you'll be guaranteed excellent accommodation, excellent meals, and daily excursions to some of Egypt's most cherished ancient archaeological sites, all of which are led by experienced Egyptologist guides.
Most of the mainstream Nile Cruises follow the same route, meaning that you will get to see the same fascinating sites regardless of which Nile Cruise tour package you choose. Once again, you should consider booking an all-inclusive Egypt tour package that includes private tours in Cairo, a domestic flight to Aswan or Luxor, a Nile River Cruise, and another domestic flight back to Cairo in time for you to catch your flight back home when your 9 days in Egypt comes to an end.
Nearly all good quality five-star Nile cruises will give you the opportunity to visit the following sites with an Egyptologist guide:
Aswan
Kom Ombo
During your cruise, your Nile cruiser will stop at Kom Ombo where you will visit the ancient Kom Ombo double temple complex. This is essentially a twin temple complex and the only one of its kind ever discovered in Egypt. Both halves of the complex had to be identical due to the fact that the temple was dedicated to two different gods. It is believed to have been the only twin temple complex ever built by the ancient Egyptians.
Edfu
During your Nile Cruise you will also stop at Edfu to see the absolutely breathtaking and truly remarkable Temple of Horus. Also known as Edfu Temple, it is the best preserved ancient temple ever discovered in Egypt. The entrance to the temple, in particular, with its two colossal statues of Horus, is simply beyond words.
Luxor East Bank
Luxor is a treasure trove of ancient sites but these are the best two on the east bank. In fact, Karnak Temple is the second most visited ancient site in Egypt, second only to the pyramids in Giza.
Luxor West Bank
The Valley Of Kings is an ancient royal necropolis that is home to more than 60 ancient tombs, including the world's most famous tomb, that of King Tutankhamun. If your Nile cruise package includes a general admission ticket for the site, it will usually include entry to three or four different tombs. However for some of the more famous tombs, such as the tomb of King Tutankhamun or the tomb of Ramses VI, visitors are required to buy additional tickets if they wish to enter them.
Recommended: Nile Cruise Holidays
What to See in Egypt in 9 Days without a Nile Cruise?
What to see in Egypt in 9 days if your budget does not allow for a Nile cruise or you simply don't want to go for a Nile cruise? You can still see all the sites which have already been mentioned in this post during your 9 days in Egypt, but it is going to require considerably more effort on your part. This is especially true if you intend traveling independently, and you have to rely on public transport and taxies.
Another alternative would be for you to travel to Aswan after Cairo and then book a day trip to the sites mentioned earlier, and/or a trip to Abu Simbel to see the magnificent Abu Simbel Temples. In fact, you should seriously consider visiting the breathtaking Abu Simbel Temples. After that you could travel to Luxor and book another day trip that includes a tour of the East Bank and the West Bank.
This should also leave you with two or three free days which you could spend on Egypt's beautiful Red Sea Coast at a place like Sharm El Sheikh, for example. This is perfect if you don't want to spend your entire 9 days in Egypt sightseeing.
Sharm El Sheikh is an immensely popular tourist destination and also a world famous scuba diving destination. As you have seen in this post, 9 days in Egypt is not a great deal of time, but you can still have an amazing experience in this fascinating country.
Quality Egypt Tours and Nile River Cruises
At Egypt Tours Plus, we have some of the very best Egypt tour packages and Nile River cruises that money can buy so your 9 days in Egypt can be even more unforgettable than ever.
If you are still wondering what to see in Egypt in 9 days, visit our site for more information or to let one of our traveler specialists assist you in creating your own unique custom tour from scratch. Contact us now and let us turn your 9 days in Egypt into a dream vacation which you will never forget. 
Design Your Custom Egypt Tour
Explore Egypt your way by selecting only the attractions you want to visit